Syndicate of the Metalurgists of the Wide Curitiba: An History of Struggles and Conquests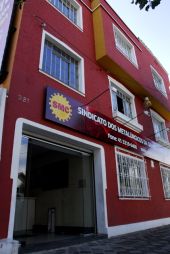 An entity that honours its past, fight in the present time and has serious commitments to the future. That's how it's possible to sum up what is the Syndicate of the Metalurgists of the Wide Curitiba (SMC, a portuguese acronym). In 2007 with 87 years-old, the Syndicate is known as one of the most acting and well-structured entity of workers in Brazil. This recognition was conquered after extense hard-working along the years due to the efforts of its leaderships and intense mobilization of the category. The goal of SMC is to defend and to fight for the worker's rights and interests. The main flags it stands up for are: better salaries, better conditions for working, reduction on the work hours, better health and safety in the factories, participation on the profits or results (PLR), among others.
The history of SMC starts to be written on January 1920. In that time occurs the first meeting that would give birth to a new entity. A group of foundrymen employed at Muller Bros. Industries meet for the first time for organizing the category. On January 28th, it was created the International Foundrymen Union, linked to the European Workers International Union. It's a milestone for all the metalurgists in the state of Paraná. This institution has been through several name changes, included categories and territorial bases, until get to the present date Syndicate of the Metalurgists of the Wide Curitiba.
Along its 87 years, the SMC has passed for various transformations. With a lot of struggle and union, it was constructed an admirable structure for better serving the category. Nowadays, besides the Central at Lamenha Lins Street, the syndicate has branches on Industrial City of Curitiba (CIC), São José dos Pinhais, Campo Largo, Araucaria and Pinhais. There's also a large leisure structure composed of Country Metal Club and the Beach Metal Club.
The Syndicate has participated actively of historical moments of the Federation. It fought against neoliberalism, against the Third Emendation (?) which threated to withdraw some worker's rights, participated of the protests "Collor Out" in 1992, it fought for the approval of the regional minimum salary on Paraná, among other mobilizations. It also took the lead of big strikes for better salaries and work conditions in several industries on the sector. All of this helped it to consolidate the name of the entity in the national scenario. Because all of this the Syndicate is reference in struggles and conquests in Brazil.
Click here to see..